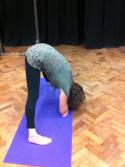 Mats
These days I often get asked about which mat to buy. There is no right answer and I have put a selection in the shop.
There are some pointers. Generally we talk about a mat being sticky, which means that when we practise postures as in the picture and our legs are taken as far apart as we can stretch them; the mat will enable us to grip firmly and we'll feel safe.
There are different sizes of mats and it's not rocket science to say; if you are tall, buy a long mat.
There are different thicknesses of mats and this is where sometimes stickiness decreases as the comfort feel increases.
If you are young and fit, I'd go for stickiness. If you are older, arthritic, maybe suffering with osteoporosis, go for the thickest mat you can get.
I no longer want to do Sun Postures to warm up because my knees cry out in protest and for my own practise, I use a thicker mat. Great for the sitting postures, fine for the inversions, harder for the balance postures ( significantly harder but you can always practise these off the mat) and not as sticky for the standing postures where I stretch my legs apart.
When I practise, I now use the stickier mats for standing postures and the thicker one for sitting postures! A two mat yogi, actually a four mat yogi but that's another story.
I use my older stickier mats when I teach.
Washing them in the washing machine is possible and I hang mine out to dry. I have never tried it but if I was going to a lot of classes and only had one mat, I'd spray mine with an anti-bacteria spray and then wipe it over.
Colours? All the colours of the rainbow are available these days. I still have a pretty good idea as to how long a student has been practising yoga by the mat being used. There was a stage when all we could get was an apple green mat. I wore mine out! Then there was a trendy dark blue.
Go by what feels right for you. If you are interested in Chakras, look at the Chakra Meditation section and you will see that each chakra is ascribed a colour. For reasons I couldn't explain, I really wanted a red mat last time I ordered one and then discovered it was perfect for enhancing the base chakra which if I'm honest I need to work on. Fascinating.
There are also so called ecological mats. I've never come across a student using one or used one myself so I can only tell you they do exist and reviews in yoga magazines suggest they are very good.
Do have fun choosing yours!