Warning
: Undefined variable $returnProductValue in
/home/rpspbbwy/public_html/returnGenericPage.php
on line
18
Warning
: Trying to access array offset on value of type null in
/home/rpspbbwy/public_html/returnGenericPage.php
on line
18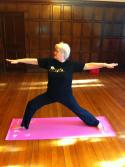 Welcome. Croeso.

Glad you've found my site. I hope you will enjoy it. It feels very strange. I was asked to teach yoga in 1974 so it has been a constant in my life. Most of the time it was something I did for love, as a hobby which was a way of life I took seriously. I only stopped teaching Yoga in December because I had been asked if I would do something else and there simply weren't going to be enough hours in the day.

If you are looking for a yoga class go to https://www.adultlearningcardiff.co.uk and look for the yoga classes available in Cardiff provided by Cardiff Council. If the Internet isn't your thing, you can contact the Adult Learning Centre at Severn Road on 02920 87 20 30
I do hope one day to return to both my yoga teaching and my Lower Back Exercise Care 1-2-1 sessions but not for the foreseeable future. I've left my website live so you can enjoy the meditations and maybe explore the different teaching points used when describing how to practice different asanas.

You don't need much space to practise yoga, so I hope you can turn a small part of your room into your yoga sanctuary. Amazingly, yoga will help you keep your muscle tone, your strength and your stamina and bring you some inner calm which we all need as we cope with the worries we've had these last two years. We are so lucky that they have found and produced a vaccine so quickly. I have had all my vaccinations. The science of vaccinations and the talk of herd immunity is difficult to follow but as I understand it for the vaccines to move us out of the cycles of Lockdowns, we need nearly all of us to have the jab. So I am a yogi guru advocating my students get the Covid vaccination.

Back to Yoga! Don't worry if you are not beautifully slim and flexible, you only have to do your best and feel your body respond and enjoy the postures. And somewhere along the line, you may suddenly realise that your arthritis isn't feeling as bad or your jeans are looser than they were... but that is just a bonus, a gift you receive when you start practicing yoga regularly.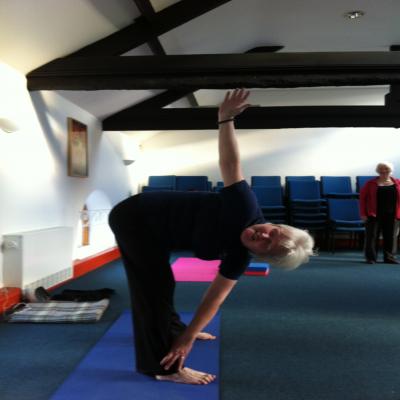 I learnt a style many years ago which is called Iyengar yoga, it has an excellent way of teaching Hatha Yoga. When I first started there were no qualifications needed to teach. You were simply taken to one side and told that they thought you were good enough to teach and would you start next week! Hatha yoga is one strand of eight that make up the yogic search for inner peace. Hatha yoga works on the body. Everybody can benefit from Hatha Yoga one way or another.
Yoga is terrific for helping back problems but you do need to have very specific attention to begin with before progressing into practicing the range of postures available. You also need to know how to manage your back problems and what you can safely do to exercise and strengthen your back. Have a look on the back care assessment page.

May there be light and love in your life,
Helen
Screening Awareness. I have done some training on this. Not sure how accessible they are at the moment but normally in Wales we have Breast Screening, Cervical Screening, ( both for ladies only) Bowel Screening and for men only Abdominal Aortic Aneurysm Screening. These tests can save your life so they are worth having. More information here.
file-1-194-Copy.JPG