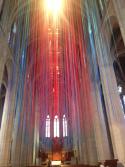 Is meditation and mindfulness the same ?
Mindfulness seems to be a buzz word these days. Is it any different from meditation?

There are so many books around about Mindfulness such as "Mindfulness a practical guide to finding peace in a frantic world" by Mark Williams and Danny Penman Publisher piatkus ISBN 9 780749 953089 and "Wherever you go, there you are" by Jon Kabat-Zinn Publlisher piatkus ISBN 9 780749 925482.
There are many different exercises given to practice Mindfulness in Mark Williams book but his first starts off as "A one-minute meditation" which rather implies that there is no difference between the two.
I think there is one important difference in that mindfulness insists we are aware of what we are doing, "conscious living" all the time whereas we can meditate in the morning and top up our reserves of calm and composure and indeed love and then just go out into the world and not worry if we are not practicing conscious living every moment of the day.
And must a meditation be based on a scripture, a holy word or holy thought where as a mindfulness practice does not ask us to turn to the scriptures? Actually you can meditate on any word you like that brings good, kind thoughts to your mind. You can and I have, meditated on views I have captured in my memory. It brings me calm.
Then is prayer the same thing? And does attending a religious service induce meditation vibes? The truth is some do and some don't. I recently attended a Contemplative Eucharist in Grace Cathedral in San Francisco in the Taize style. Peace washed over me.
Repetitive prayer is much like using a mantra to meditate on. In Nepal women walk from one place to another saying their Buddhist prayers over and over again believing deeply that collectively their murmuring of good thoughts will make the world a kinder, better place.
So to untangle things, it is possible to be mindful and to live in mindfulness without meditating. It is possible to meditate regularly but not live in a mindful way.
But actually the lines in most books on the subject are blurry, mindfulness exercises which focus your attention on your breath... yogis have been focusing their attention on their breath for thousands of years.

Mindfulness exercises repeating a word and you might as well be practicing Transcendental Meditation.
The lines are fuzzy. I suggest you try all the exercises you can to practice both mindfulness and meditation and some of them will feel just right for you. When you have found the ones that suit you and make you feel calmer and more peaceful, stick with them and don't worry about definitions, just enjoy the practice :- )